The Importance of Student Agency
Student agency is the compilation of skills and habits that support students in their learning across all subject areas. The mastery of these non-cognitive skills and habits has been noted as essential for students' long-term academic and career achievement and, importantly, they can provide a means for disrupting troubling patterns of student achievement.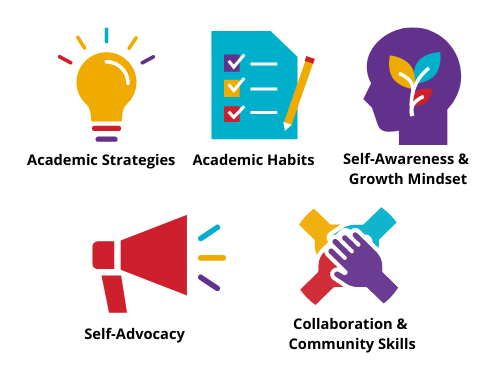 At Gateway we have categorized these skills into five key areas:
Academic Strategies
Academic Habits
Self-Awareness & Growth Mindset
Self-Advocacy
Collaboration & Community Skills
Through thoughtful classroom, school-wide and professional development practices, teachers and schools can foster students' growth in all these critical areas of student agency achievement.
At Gateway, these skills and habits are valued and taught explicitly together with the content area skills and knowledge within each subject area.  Just as students are evaluated in their mastery of math, for example, their metacognitive awareness and understanding of how to approach mathematical problems is taught and assessed.
Explore our Student Agency Rubric on the Student Agency Resources page.
Getting Started with Student Agency
These tools typify the kind of structures and assignments that can help students take control of their experience as learners and advocate for themselves.