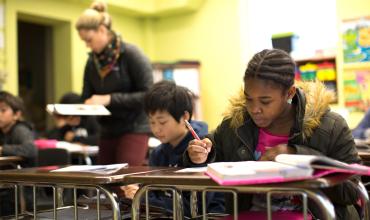 Areas of Impact
Professional Development
School-Wide
Age Group
High school and middle school
SHARE for Co-teaching & Collaboration
Self Awareness & Growth Mindset, Collaboration & Community Skills
Successful collaboration and co-teaching do not happen by accident; it is a relationship that has to be built with honesty, integrity & attention.
Overview
This document jump starts a conversation among co-teachers and collaborators to develop successful co-teaching relationships.
Context
Administrators could use this document at the beginning of the year to establish the importance of co-teaching and begin honest conversations to support that collaboration.  Teachers reflect on their philosophies and habits regarding co-teaching and/or collaboration then share it with all their co-teachers and collaborators. This process establishes the groundwork for teachers to honestly share their perspectives and build successful co-teaching teams.
Implementation
Before asking teachers to honestly share their perspectives, administrators must establish both the importance of collaboration & an atmosphere of openness to confronting the challenges of the process. This reflection document represents just one step in the process of shaping successful teams. At Gateway, co-teaching teams take time at their first formal team meeting to share these perspectives. Afterwards teams establish their norms & systems using the Practices for Team Collaboration tool. Successful teams at school need opportunities to revisit their expectations & practices.  Just as the beginning of a semester is often a good time to re-establish classroom norms, it is also often a good time to revisit team norms, allowing teams to improve upon their strategies and practices for effective communication.
Related Content:
Practices for Team Collaboration
Leading the Co-Teaching Dance: Leadership Strategies to Enhance Team Outcomes by Wendy Murawski & Lisa Dieke