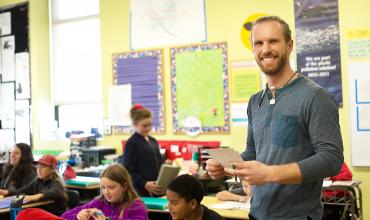 Areas of Impact
Professional Development
School-Wide
Age Group
High school and middle school
Frequency
Weekly, monthly
Professional Development Long-Term Planning Template
Self Awareness & Growth Mindset, Collaboration & Community Skills
When I walk into our school's weekly professional development, I know that it has been carefully planned to support my work with students the next day.
Overview
This template provides a practical data and goals-driven framework to plan meaningful, research-based, school-wide professional development.
Context
This template provides a structure for school leaders to thoughtfully sequence year-long professional development for their teachers. At Gateway we use this template to determine the scope and sequence of teacher learning over the course of the year, recognizing that our ways of achieving those goals might change flexibly in response to teacher learning.
Implementation
The first page of this document focuses on identifying the professional development needs, means and goals for the teacher learning sequence. Having clear data (e.g. student work, grades or scores) is a necessary first step to identifying the "instructional problem of practice."  From that data,  the year-long goals & means of reaching these goals are identified. Later, data collection is fundamental feedback loop to making sure the professional development stays on track; this data is the formative assessment of teacher learning. Simple "exit tickets" after each professional development session or classroom visits can provide this data.  As the professional development sequence evolves, teacher leaders may find the need to change specific learning experiences in response to teacher learning.  This template should serve as a living document to support the successful and responsive evolution of the professional development experience for teachers over the course of the year.